Date Window Carrier Band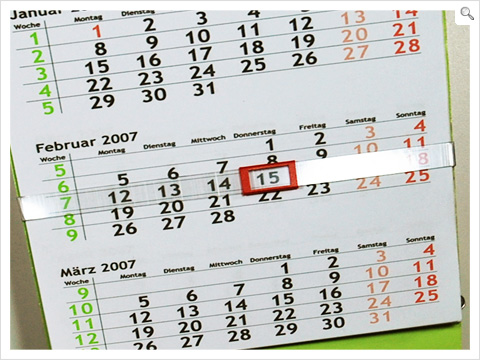 Click on the small picture to enlarge the picture. For a more detailed view click on the large picture.
Scope of Delivery:
Wind, hard PVC band (folded over)
Handling:
The window is attached to a hard PVC carrier band. The carrier band is folded over at the edges and is held in place by the clips. At the current page (design "page") or holds all the pages (design "block") of the calendar. This design is preferably used for desk calendars.
Assembly:
The window is "clipped" on to the carrier band and packed into boxes of 1,000. At additional cost, packages of 50 are available, supplied in plastic bags.
Minimum
quantities:
Stock assortiment 300 pieces; otherwise 3,000 pieces
Delivery time:
On request
Colours:
Window size:
The standard window is Nr. 22 (external measurements HxW: 12mm x14; internal HxW: 8x10); others on request.