Welcome!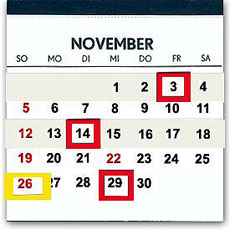 Here you find out everything that the current date on your
calendar registers.

Date Indicator
· 3-Months-Calendar
· Picture calendar
· Strip Calendar
· Desk Calendar

Our standard programme includes approx. 50 different window sizes. Not only in red, but also in many other colours. If your required colour is not included, we will produce it for you!


Date indicators which consist of several parts (window, carrier band and holder) can be assembled prior to delivery.

Our delivery time for non-assembled date indicators is approx. 1 week. For pre-assembled calendars approx. 2 weeks.

You can request your individual date indicator price from us.
Samples are available on request.

The date indicator overview includes information about our standard products.

Please contact us on our information hotline +49 (0)30 349779-0.